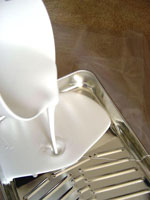 We all think about home improvement from time to time. We would love to remodel our kitchens or bathrooms, add on a room or expand to our outdoor spaces with decks and patios. Here are some tips for doing home improvement that will add resale value to your home.
Refurbish the basement. If your home has a basement, don't leave it as empty space. Remodel it to add a recreation room or home theater. Any addition of enclosed heated or cooled space adds resale value.
Add on a deck. A space to relax and enjoy cool drinks. A homeowner who adds a deck will likely recoup around 75% of their money back when they sell. But mind the size. Most appraisers will compare your home to similar ones in the neighborhood. So "keeping up with the Joneses" might be the way to go.
Major master bath remodel. Turning your last decade bath into a updated future decade bath is where its at. Add some space if you can find it. His/hers sinks and vanities are always a good sell. Update your tub, shower and tile.
Paint those walls! Most prospective buyers want to be able to visual their stuff in your home. One way to help is by painting the walls a neutral base color. Consult a professional for color selections if you need help. Hire a pro painter if you can't do it yourself.
Attic space. If you have some large open attic space why not create a bedroom or hobby room in it. Add value with recessed windows, built-ins, hardwood flooring and some window seating.
Expand upward. If you can't go outward, go upward. Even out the look of your house by adding a second story over the garage or a flat-roofed area. This will create additional square footage (heated/cooled) and add resale value.
Keep room options open. We all want to make our home ours but what happens if a room becomes too custom. Buyers often can't see beyond highly customized areas. So make sure the room is flexible and can be changed easily.
Revitalize your kitchen. Kitchens sell houses so investing a bit or a lot of money in this room will get you value. Buyers today expect to see stainless steel appliances and draw pulls and knobs. Add some new lighting and maybe some tile and you have a nice updated space.
Minor bathroom changes count. If you can't afford a big remodel then consider replacing your dated tub, toilet, sink and/or tile. Maybe change out the old "surround" for a tile wall and floor. Even minor changes can reinvigorate your spaces.
Last but not least, replace your siding. By updating your siding, you will increase the first impression a prospective buyer will get when they look at your home. If the siding and trim look bad, then you get the label of fixer-upper. Not a good resale title.