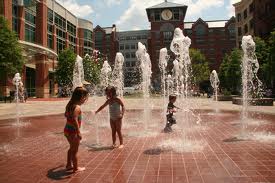 Rockville Maryland is home to the county seat of Montgomery County, one of the country's most affluent suburbs. The city is also the second largest in the state, boasting more than 55,000 Rockville Maryland property owners. Yet despite its modern feel, Rockville actually dates back to 8000 B.C.; Native American nomads, who had gathered in the area, would eventually settle here to farm in the 1st millennium B.C. Not surprisingly, Rockville Maryland property owners are proud of their city's extremely long history and have made significant efforts toward its preservation.
In 1974, the non-profit organization Peerless Rockville Maryland was formed to help restore many of the city's landmarks, including the B&O Railroad Station, the Wire Hardware Company, and Old St. Mary's Church. Today, these and other heritage sites located in Rockville Maryland are listed on the National Register of Historic Places.
The Federal government is the largest employer here, and the University of Maryland University College and Johns Hopkins University both have campuses in Rockville Maryland. This, combined with the city's proximity to Washington, D.C., makes Rockville Maryland real estate an ideal choice for commuters, students, and families alike.
Homebuyers can choose from established neighborhoods as well as a number of newer Rockville developments. One of the most popular areas to live is in the mixed-use community of Rockville Town Square. This shopping and dining destination features two major residences: Palladian Condominiums and Fenestra Apartments.
Below are some homes for sale in or near the Rockville area. Newest homes for sale in Rockville are listed first. Click on each home for more details.
See all Rockville, MD.
(all data current as of 10/22/2018)
Listing information deemed reliable but not guaranteed. Read full disclaimer.